TALC in automotive applications
Over the years, IMI Fabi has developed a specific range of products for automotive applications
Because of the important presence (typically 10-25%w/w) of talc as polymer modifier used in automotive industry, it is appropriate to talk about talc in automotive applications.

IMI Fabi offers a full range of products to satisfy the most stringent requirements. It is possible to specify the right talc grade for each kind of application, according to both fineness and colour.
In the automotive industry, thermoplastic polymers are used to fulfill functional and design requirements for vehicle production, recording a significant increase in volumes in the last 30 years.
IMI Fabi talc is extensively used in PP and TPO to enhance rigidity, to minimize CLTE and to lower molding shrinkage. All these advantages can be also achieved with the minimum loss in impact resistance, allowing very effective design of functional parts in automotive, such as bumper fascias.

Other engineering polymers used in the automotive industry can also benefit by the modification with IMI Fabi talc.

IMI Fabi can recommend a specific talc grade according to final application.
IMI Fabi talc grade
Typical applications in automotive
HTP4 / GT4410
Under the hood / Airducts
HTP2 / BT2203
Interior
HTP1c / BT2202c
Dashboard - interiors
HTPultra5c / HVTultraC
Dashboard - bumpers / Scratch resistance parts
NTT05
Light weight applications
HTP and HTPultra grades can fulfil most of automotive requirements for rigidity increment, dimensional stability, long term heat ageing and impact resistance.

HTP and HTPultra grades are characterized by high lamellarity, extreme pureness and superior brightness.

Such grades are also recommended when specific limitations for odour development are set. Because of the high brightness, HTP and HTPultra can be used for all coloured compounds.

For dark/black coloured parts, BT and GT grades canbe considered for cost-effective applications.

When very stringent requirements are needed for stiffness-to-impact ratio, HTPultra and HVTultra grades are strongly recommended. Additionally, both HTPultra and HVTultra are suitable for applications where resistance to scratch is one of the key features.

For exceeding stiffness requirements, NTT05 offers the opportunity to minimize talc loading for light weight purposes. Additionally, NTT05 is characterized by exceptional bulk flowability for easy handling.

IMI Fabi micronized talc grades are generally offered in compacted form for improved bulk handling, low dust generation and increased achievable throughput, but they are also available in powder form to satisfy any type of handling requirement.
Automotive TPO formulation filled with 20% TALC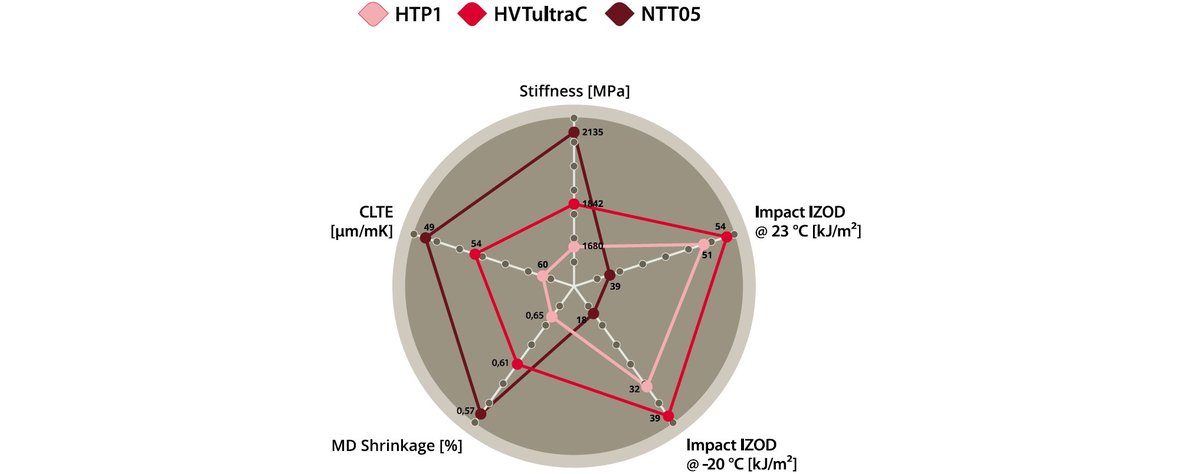 IMI Fabi has an application laboratory dedicated to polymer applications. Our team is keen to assist polymer manufacturers in selecting the most suitable talc grades relevant for their final applications.